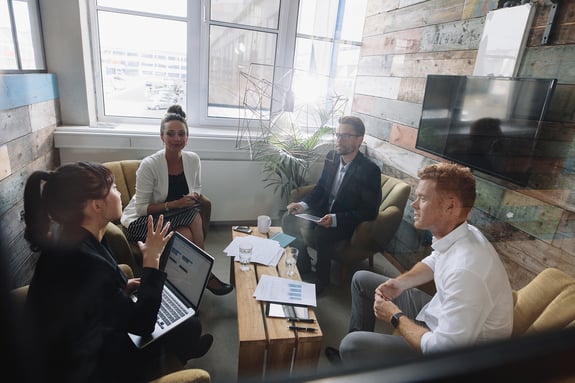 OUR STRATEGY
CREATING VALUE ONE COMMUNITY AT A TIME
We believe in the intrinsic joy of finding and creating a home, a place that inspires and energizes people to live their best lives. Our team of professionals is dedicated to investing in, building, and managing communities where people can take day-to-day living to the next level.

It begins with data-driven acquisitions and continues with our empowered associates. We believe in being customer focused in all we do. This is fully evident in our insightful investor reporting, adoption of best-in-class technology, and how we approach capital improvement projects onsite.
TOUCH
Data Driven Acquisitions
Data Driven Acquisitions
Our proprietary Econometric Model is fed by robust data sets and market intelligence, allowing us to identify potentially optimal opportunities and trends for multifamily real estate investments.
TOUCH
Empowered Onsite Associates
Empowered Onsite Associates
We empower our associates to make local decisions for maximum benefit to investors and residents, all while providing the best tools and support in the industry to achieve results.
TOUCH
Customer Focused Operations
Customer Focused Operations
Delighting customers and meeting owner objectives is not mutually exclusive; accordingly, we regularly survey our residents about their experience while also engaging frequently with investors.
TOUCH
Insightful Investor Reporting
Insightful Investor Reporting
Results are measured and reported across a broad range of KPIs, with investors receiving constant updates in our seamless investor portal. They enjoy easy access to everything from revenue growth to renovations, and from NOI to new initiatives.
TOUCH
Best-In-Class Technology
Best-In-Class Technology
We embrace leading edge platforms that enable our associates to be productive, improve property performance, and realize operational efficiencies.
TOUCH
Impactful Capex Improvements
Impactful Capex Improvements
Our construction and project management expertise allows RealSource to leverage capex initiatives that elevate the resident experience and improve operating results.
OUR BUSINESS PARTNERS
Our relentless focus on innovation pushes RealSource to partner with best-in-class technology and service providers.




While our expertise and experience within the industry set us apart, our people are what truly make RealSource unique among its peers in the industry. Not only are they experienced and professional at every level, but they care deeply about who and how they serve every day.
OUR ULTIMATE GOAL IS
THRIVING PEOPLE AND PLACES